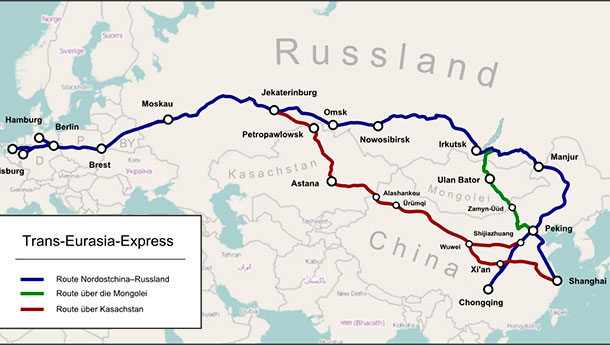 The Silk Road is legendary: it was once the trading route for caravans between Asia and Europe, bringing spices and silks to us in Europe on the backs of camels. In the last few years the Silk Road has been reborn.
China – on the new Silk Road with UNICON Logistics
The New Silk Road has now been in existence for a few years – as a new transport and trading route with China, via Central Asia and Russia to Europe. Similarly to sea-air shipments, rail shipments are faster than container ships and more cost-effective than air freight transport.
The northern route leads via Russia and the southern route via Kazakhstan / Russia to Europe. The trains start their route in China, run weekly and take 18 to 22 days for the whole trip. The main destinations in Germany are the rail terminals in Hamburg and Duisburg.
Shipments are possible in FCL full containers and LCL containers. 40-foot standard containers and hi-cube containers are permitted on the routes, and to a limited extent also 20-foot containers. Incidentally, the same documents are required on the new route as for sea and air freight – so the organisational effort remains similar.
We would be pleased to advise you on this extremely interesting transportation route that is still in its early days. Get in touch so we can secure the appropriate transport capacities for you.